Product Description
The Anchoring-Agent Production Line Built by Jincheng Anthractie Mining Group
Shanxi Jincheng Anthractie Mining Group is one state-owned big enterprise with deep-pockets. And it has very high standard in equipments purchasing. Thus, this cooperation was deemed to the most powerful evidence of the good performance of SBM SCM1250 ultrafine mill.
Project Overview:
From project design to installation &commission
This complete set of the anchoring agent production equipments are produced by SBM (Shanghai Shibang Machinery Co., Ltd). With these equipments, the production line is able to realize centralized-control, auto-production and auto-troubleshooting during the production process, besides, it has advantages like easy operation, easy learning and use, etc.
Material Features:
Raw material: Sulphate-aluminium cement clinker, Portland cement, Metakaolin, Lime, Gypsum, etc
Inputting Size:<1mm
Moisture:<5%
Application:Slip-casting &filling material
Final Products Requirements:
Production Requirements:
1,No Grinding: After going through the weighting system, raw materials of anchoring agent are weighted and proportioned; then the materials are fed to the zero-gravity stirring system to be stirred; finally, they are sent by the pneumatic conveying system to finished product tank to be stored. When the finished products are packed in bags, they are able to be transported for sale.
2,Material Grinding: The raw materials are fed to the weighting system by the feeding equipment to be weighted and proportioned, and then they are stirred and mixed in the zero-gravity stirring system. After that, the mixed materials enter the grinding system to be grinded and classified. Finally, the materials are sent by the pneumatic conveying system to finished product tank to be stored, being packed in bags according to requirements.
Although, it needs two kinds of processing technology, the two sets of production processes share the same set of production line. With the high degree system integration, the production line takes quite little area and efficiently reduces equipment total investment.
Production Line Equipment Configuration:
Different from the standard design, this production line is improved according to customers' requirements. The whole production line mainly contains the SCM1250 ultrafine mill (the main equipment), Screw conveyer, powder packaging machine, pneumatic conveyer and so on are auxiliary equipment, which meet the requirements of the two sets of production processes of anchoring agent.
Production Process:
With the help of PLC and Visualized operation, the degree of automation of the system is quite high; Benefits from the SBM technology, the scheme configuration is very reasonable.
The first stage:
Raw material feeding system: The separating stored cement, lime and gypsum and some other raw material of the anchoring agent are fed to the weighting system through the feeding equipment.
The second stage:
Weighting system: According to the set ratio, different raw materials are weighted.
The third stage:
Stirring system: After the weighting work, the materials are stirred and mixed in the zero-gravity mixer.
The fourth stage:
Grinding system: The mixed materials are fed into the ultrafine powder grinder through screw Feeder to be grinded and classified. As the key process, SCM1250 ultrafine mill grind the powder into required 1250 mesh.
The fifth stage:
Conveying, storage and packaging system: Finished products are collected by pulse dust collector and sent to tank by the pneumatic conveying system, packed by packaging system and transported.
What Facilitates the Success Cooperation?
01 Integrative project design
02 High Automation
03 Perfect Service
04 Sustainable Services after Project Inspection
Advantages of Core Equipment:
The main equipment in the anchoring agent production is SCM1250 Ultrafine Mill ---- a high-efficiency but low-cost machine developed by connecting mill production experience and advantages of domestic and overseas mill manufacturing.
1. High Efficiency:
Newly designed grinding roller, grinding ring and grinding curve can promote the grinding efficiency. Under the condition of the same fineness and power, the capacity of this mill is 40% higher than that of jet grinding mill &stirred grinder and more than twice that of Ball Mill; while the consumption of the system is only 30% that of jet grinding mill.
2. High Fineness:
Both single-head powder separator and multiple-head powder selecting machine are optional. Because the speed of each rotor of the multiple-head powder separator is adjustable, the finished products can collected directly, without further winnowing, and there is no inferior material. Among the final products, powders smaller than 2μm can reach 70%.
3. Highly Environmental Protection:
The use of pulse dust collector, silencer and Sound-proof room can remove dust and reduce noise, which is totally in keeping with the national standard requirements.
4. Low Cost:
The grinding roller and ring are forged by using special materials; as a result, the service life is 2-3 times longer than that of impact crusher and turbo crusher under the same condition. And it reaches 2-5 years when it is used to grind calcium carbonate and calcite.
Shanghai Shibang Machinery Co., Ltd. is professional manufacturer of crushing and powder making equipment. It is a major production and export base of sand-stone and powder making machinery in China.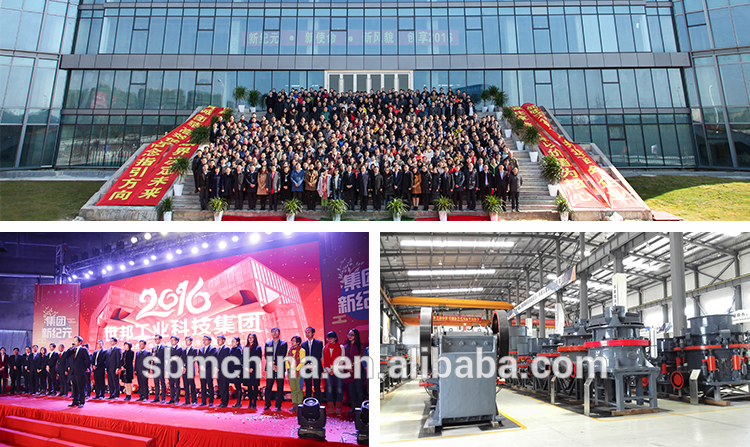 Our products include:
Crushing machinery: Jaw Crusher, Impact Crusher, Cone crusher, Vertical Shaft Impact Crusher, Mobile Crusher
Grinding machinery: Raymond Mill, Vertical Roller Mill, Hammer Mill, Ball mill
Auxiliary products: Vibrating Screen, Vibrating Feeder, Belt Conveyor, Sand Washing Machine
Why choose us:
1.Boasts its 90000 square meters production base
2.30 years industry experience
3.Owns complete modernized metal cutting equipment, equipped with advanced Solidworks 3D mechanical design and Computerized Simulation Test System
4.Professional technology and after-sales service team
5.Achieved ISO9001:2000 Quality Management Certificate and EU CE Certificate.
6.Have been exported to more than 130 countries
7.Products cover more than 20 models of 3 major series: mill series, crushing series, and sand making series.
Warmly welcome you to visit our factory !!!
Send Message or Chat Now for Detailed quotation !!!
Tips: please tell me your material and capacity to become our quality clients which will have 2%-10% discount
Please tell me your demand information, so we can send you accurate quotation:

♥ What's the raw materials you want to process(such as limestone, granite, basalt)?

♥ What is capacity you want tons per hour? such as 3-10TPH, 150TPH, 200TPH.
♥ Your email address or phone number
♥ Other requirements. (We are the leading manufacturer of mining machinery: jaw crusher, impact crusher, cone crusher, sand making machine, mobile crushing plant, vibrating feeder, vibrating screen, belt conveyor, raymond mill) 
Or you can contact me by:
Email:   laura@shibanggroup.com
Website:   https://sbmchina.en.alibaba.com/contactinfo.html
Skype:   wang.katherine416
Whatsapp:   +86 18221397223
Contact us if you need more details on Ultrafine Mill. We are ready to answer your questions on packaging, logistics, certification or any other aspects about SCM1250 Ultrafine Mill、SBM SCM Mill. If these products fail to match your need, please contact us and we would like to provide relevant information.
Product Categories : Production Line