Product Description
coal Mine Roadheader tunnel boring machine
1. coal mine heading machines The horizontal and straight structure of the intermediate transport plane is formed by four-link rod slippage with the shovel plate. When the shovel plate is lifted or horizontal, the length of the scraper chain of the first transport plane changes little;
2.mining heading machine has internal and external spray, and the internal spray is the spray behind the teeth, so as to strengthen the external spray and reasonably design the form of external spray. The internal spray has the function of water leakage detection.
3.underground heading machine High configuration, advanced technology, good reliability, low center of gravity and good machine stability; The cutting part is retractable with a retractable stroke of 550mm.
4.Mini tunneling Roadheader Large inclination Angle at the bottom of the shovel plate, large ground clearance and strong climbing ability of the whole machine. The motor directly drives the star wheel, which is conducive to loading and bottom cleaning;
5.Roadheader High gantry, smooth transportation, double-chain scraper transport, high-strength wear-resistant steel plate is adopted in the chute to ensure the service life of chute and scraper;
6. The body and rear support are welded with thick plate box structure, with good rigidity and high reliability;
7. The walking drive system is highly integrated with internationally advanced motor and reducer, and the output torque is highly adaptable to the operation of large inclination Angle.
8. The hydraulic system adopts constant power, pressure cutting and load sensitive control;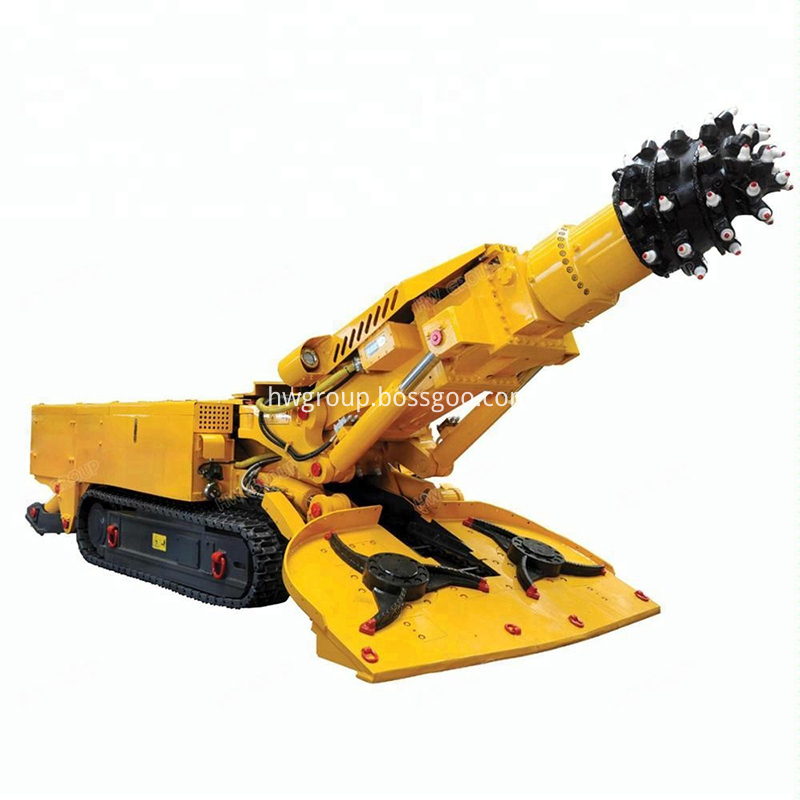 coal mine roadheader tunnel boring machine Parameter
| | | | |
| --- | --- | --- | --- |
| Name | EBZ 120 | EBZ 75 | EBZ 45 |
| Cutting power | 120KW | 75KW | 45KW |
| Cutting head speed | 42r/min | 60r/min | 65r/min |
| Cutting ability | 70MPa | 50MPa | 40MPa |
| Retracting capacity of cutting mechanism | 240mm | 550mm | 550mm |
| Walking speed | 9m/min | 12m/min | 12m/min |
| Climbing ability | ±18° | ±16° | ±18° |
| Rotational speed of star wheel | 30r/min | 30r/min | 30r/min |
| Chain speed of scraper | 0.85m/s | 0.65m/s | 0.65m/s |
| Total installed power | 195KW | 105KW | 70KW |
| Power supply voltage | 1140/660V | 1140/660V | 380/660V |
| Maximum heading height | 3.75m | 3.50m | 3.50m |
| Maximum positioning driving width | 5.0m | 4.20m | 3.80m |
| Undercover | 240mm | 300m | 350m |
| Ground specific pressure | 0.14Mpa | 0.12Mpa | 0.12Mpa |
| Ground gap | 250mm | 200mm | 180mm |
| Throughput | 50-80t/h | 20-50t/h | 8-20t/h |
| Machine weight | 35t | 18.8t | 11.8t |
| Dimension(L*W*H) | 8.74*2.8*1.55mm | 7.5*1.6*1.5m | 7.5*1.6*1.5m |
Coal Mine Roadheader Tunnel Boring Machine Figure Photos